Meet Julia Lowther, this special little girl has a very big heart. On Friday Julia celebrated her 8th birthday. Julia decided that for her birthday she wanted to have a skating party for her and her friends. Instead of her friends bringing birthday gifts for her, she asked her friends to bring items for the animals here at Painted Rock. What a wonderful and kind thing for her to do.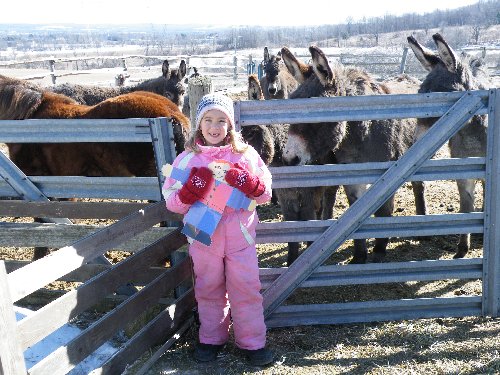 Julia and "Flat Stanley" pose for pictures with the donkeys.
Julia tells me that they had a lot of fun at her birthday party.

Her friends were very supportive of her wishes and together collected a huge amount of items. Julia and her family packed up the family van and made the journey from Burlington up to Tottenham to donate the items in person. We were so glad that they did because it allowed us the chance to meet this wonderful and caring young girl. I took Julia and her family around on a little tour of the farm to meet some of the animals and we had a great time.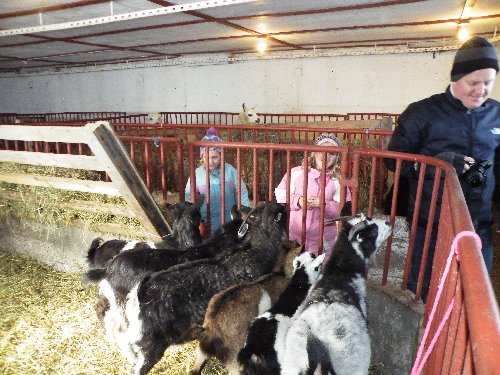 Julia and her two younger sisters, Brooke and Amy, visited with all the animals and handed out treats. The goats sure like those cookies!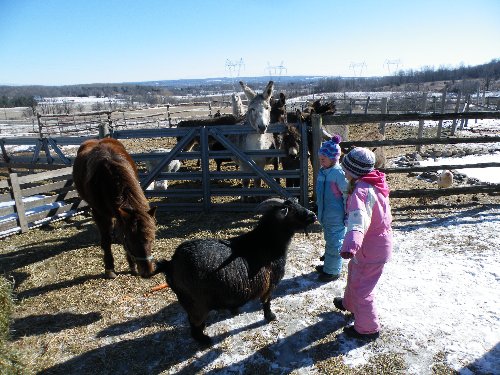 Julia tries to tell Reggie that he's had enough treats, I don't think he thinks so (Reggie can stand to lose a few pounds, maybe even more then a few!)
Julia handed out carrots and apples that she had received as gifts, Pixie the pony and her pasture mates love those goodies. Reggie and the other goats kept trying to steal all the treats.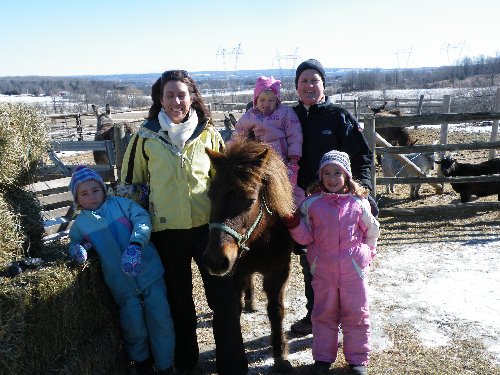 The Lowther Family, from left to right: Brooke, "Mom" Deb, Amy, "Dad" Stewart and "The Birthday Girl" Julia.
Julia's little sister Brooke said that she will be turning 7 in September and that she too will be doing the same as her big sister. It takes a pretty special person to do what Julia has done, her giving spirit and kindness are truly inspiring. With values and quailities like that I can only imagine that she will go on to accomplish wonderful things in her life and making the world a little better of a place.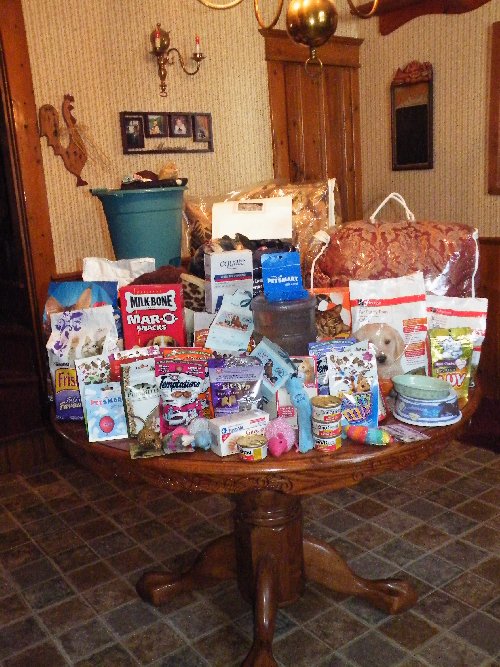 Here are all the items that Julia collected from all her friends at her birthday skating party. WOW!!!!
Thank You to all of Julia's friends that purchased such perfect items from the carrots and apples to the cat food, blankets,gift cards and even a water bucket, everything was excellent!!
We had a great visit with the Lowther family today and we look forward to their next visit to the farm, perhaps we'll get the pony saddle out and take the girls for a ride.

Happy 8th Birthday Julia!

From, Pixie

& BJ

and all of us here at Painted Rock Animal Sanctuary xoxoxoxox