Today we had some more visitors at the farm, three young ladies, Emily Secord and sisters Julie and Leah Vlasic accompanied by Emily's mother Melissa and little brother Brian. As well, Emily's Grandmother Noela Blease and her Sister Hazel Preece.
We first met Emily when she came out to visit the farm this past summer with her Grandmother. Over her Christmas holidays Emily came up with the idea to make a list of items from our web-site's wish list and hand out copies of it throughout her neighbourhood. Emily's two girlfriends, Julie and Leah decided they wanted to help out too and went door to door dropping off copies of our wish list and told the neighbours that they would return after Christmas and collect any items people had that they would like to donate. The girls managed to collect a number of items, all of which we need here at the farm and will go to good use. Little brother Brian also donated $10.00 of his own allowance money that went towards additional items that they purchased for us.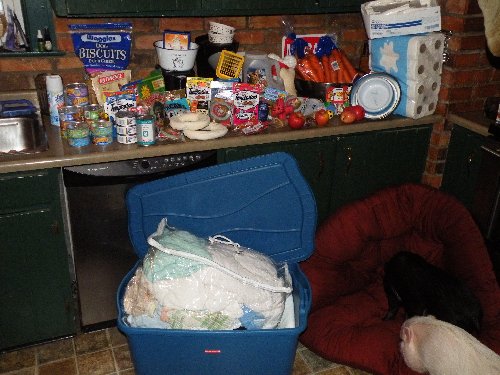 All the items that Emily, Julie & Leah collected from their neighbours. Ollie & Hamlet had to check out the new big red pillow bed.
The girls managed to collect blankets, towels, cat & dog food, cat treats & toys, food bowls, medical supplies, carrots & apples for the animals in the barn and Ollie and Hamlet's favourite, the big red pillow bed.
We took everyone around to visit with all the animals and to give them all some of the treats that the girls had collected. I'm not sure who had a better time, the kids or the animals. I know the animals were pretty excited about all the goodies they were getting.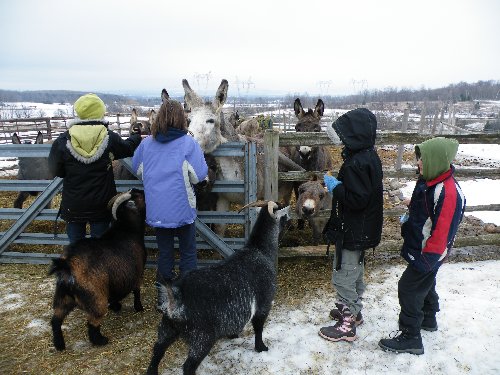 Julie, Emily, Leah & little brother Brian hand out treats to the donkeys and goats.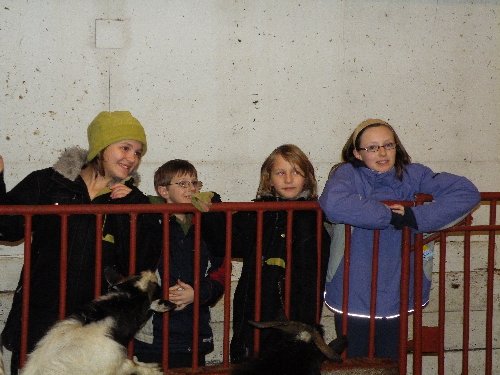 Julie, Emily's little brother Brian, Leah & Emily hand out cookies to the goats.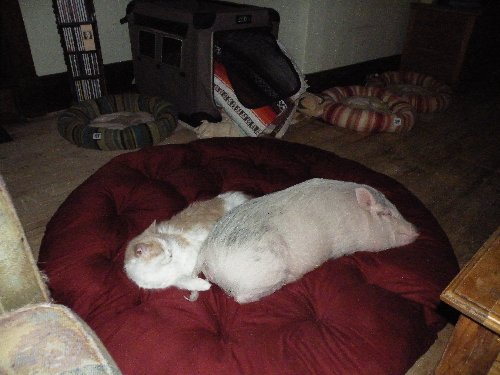 Ollie and Maddie check out the new pillow bed, there's room for you too Mum.
Thanks again girls for everything you did for all the animals here at the farm (and you too Brian). It means a lot to us!