This weekend we have had some farm friends come visit the farm and we would like to thank them all for making a difference.
Meet the Roulston Family, we first met the family back in late September when they contacted us about Olivia aka "Ollie" the pig. They have come out to the farm to visit Ollie on several occasions and back in November Rita "the Mom" came up with an idea to help raise some money for the farm. She had designed several sock creatures for her own children and thought that her and the kids would be able to help the farm out by creating and selling these cute and crazy sock creatures prior to Christmas.
Rita designed and made each of the creatures herself and the kids sold them at their school to friends and Teachers. All their hard work and efforts paid off because they managed to raise in excess of $100.00.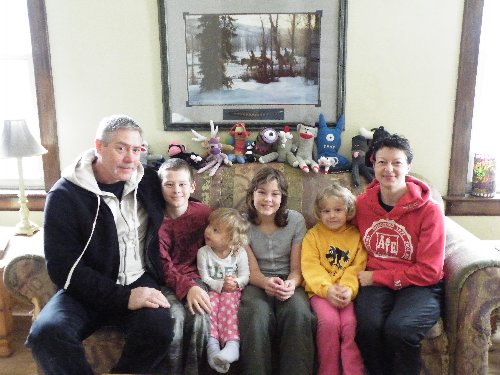 The Roulston Family, from left to right; Ian, Carson, Shiloh, Chelsea, Quincey and Rita.
In addition to all the fund raising that the Roulston's have done, they also sponsor Ollie the pig and donate money each month to cover her food expenses for which we are greatful. The kids, along with Mom & Dad enjoy coming to the farm to visit with Ollie as well as the other animals here in our care.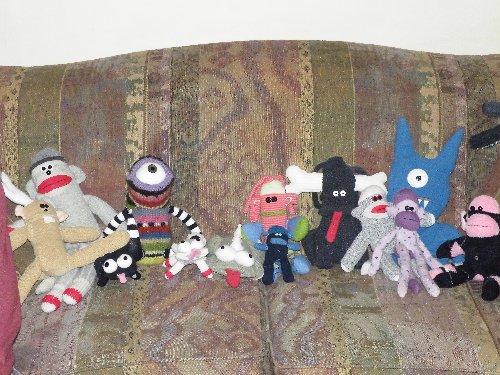 The "Sock Monsters" that Rita Roulston designed and created. These kooky and quirky characters are truly one of a kind. Rita has a real talent as well as a wonderful imagination.
We would also like to thank all the people that purchased the sock creatures, they include; Ms. Stum, Mrs. Walsh, Geoffry, Tyler, Tania, Emily, Cassidy, Tristan, Bailey, Lauren A. and Lauren R.. Thank You to each of you.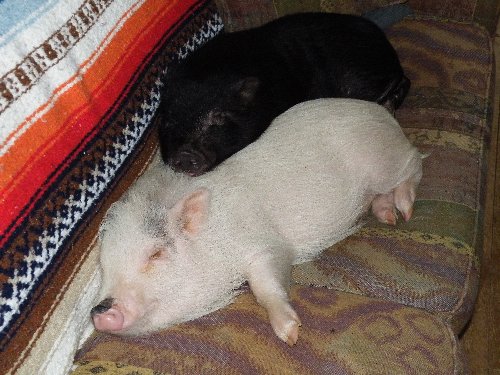 Well, after the Roulston's visit with Ollie and Hamlet too, the two little pigs were tuckered out and it was time for a nap.
Thanks Again to the Roulston Family for all their support!