Smitty came to join the Painted Rock family after animal activist Lynne Smith saved this precious little pig from a horrible life in a research testing lab. His origional owner had abandoned him when they moved to another province. The next door neighbour found that he had been left behind and placed an ad for a "free pig" on the internet. A research lab interested in "free animals" (to be used for testing) answered her ad and the little pig was headed for a terrible destination until Lynne found out about his story and intervened. She took possession of the little guy and cared for him in her apartment until such time she could get in contact with us.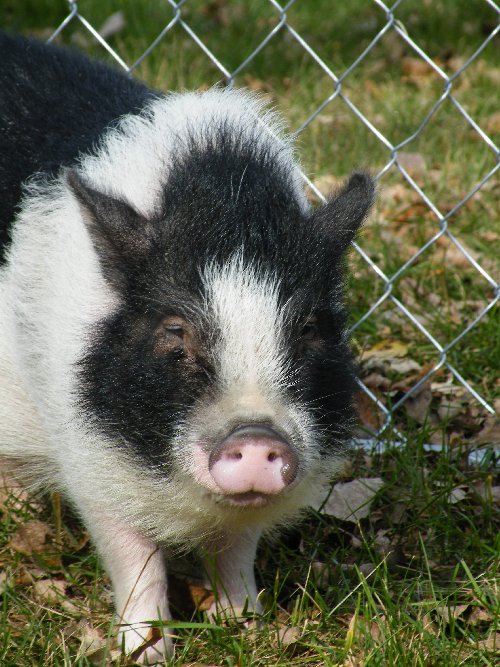 Lynne, her daughter Alice and her son in-law have gone above and beyond in helping this little guy. Once we made arrangements to have Smitty brought up to the farm, Lynne and her son in-law snuggled him up in a blanket and made the two hour journey to our farm.
It took no time at all for him to settle in here. Because pigs will often fight with eachother and with limited space in the stable, Smitty lives in the house with us. Last year my husband and I began to convert the granny flat that is attached to our house, into kennel suites for the animals. Smitty has his own 6x7 room as well as a larged fenced area where he spends his days out side (at least until the snow falls).
Smitty is the only pig I have ever seen that likes to be picked up and doesn't squeal when you do. He has such a gentle and quiet personality and he is the sweetest little thing.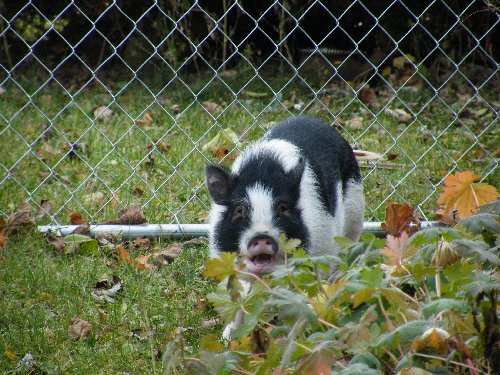 We named him "
Smitty
" after Lynne and Alice
Smith
, the two ladies that saved him from a horrible life of pain and suffering. Every time I call his name I am reminded what a wonderful thing those ladies did for him.